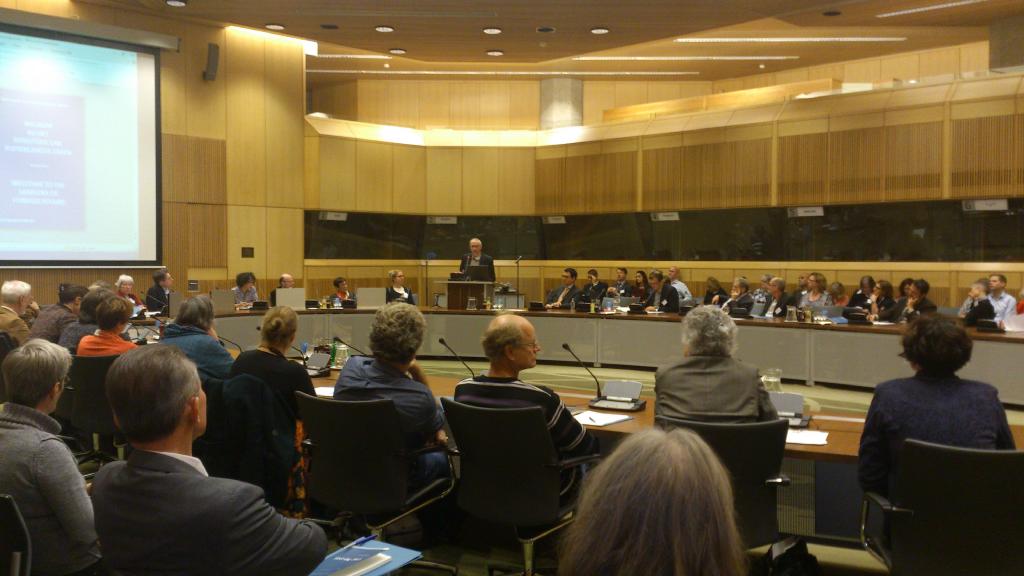 Impression of TiNT 2014, November 14, 2014 and link to programme
Op 14 november 2014 organiseert de vereniging NL-Term in samenwerking met het Steunpunt Nederlandstalige Terminologie voor de zesde maal de TiNT-dag. TiNT staat voor Terminologie in het Nederlandse Taalgebied. Dit jaarlijks terugkerende evenement is bedoeld om actueel onderzoek en de professionele praktijk op het gebied van Nederlandstalige terminologie voor te stellen voor een breed publiek. TiNT 2014 vindt plaats op het Ministerie van Buitenlandse Zaken in Den Haag, van 9.30 tot 18.00 uur. Het thema is dit jaar Terminologie in de communicatie tussen overheid en burger. We hebben zeer interessante en voor het thema relevante sprekers vast kunnen leggen, waaronder Alex Brenninkmeijer van de Europese Rekenkamer, tot voor kort Nationale Ombudsman, Geert Joris, Algemeen Secretaris van de Nederlandse Taalunie en Jac Brouwer, Landelijk Huisstijlcoördinator van de Belastingdienst.
We hopen ook dit jaar weer op een volle zaal, interessante presentaties en levendige discussie.
Meer informatie, het voorlopige programma en het inschrijfformulier kunt u vinden op onze website: http://taalunieversum.org/inhoud/tint-2014.
Met vriendelijke groet,
namens het SNT en NL-Term
Anneleen Schoen
steunpunt@let.vu.nl